Review: Woods BW12 batwing cutter
Let's be honest, Unless your property is almost entirely forested, you likely spend more time mowing than any other chore on your property. If I kept a breakdown of chores spent in relation to my hours' meter I'd bet I mow 5x more than any other single task. Yet we love to spend money on tillers, seeders, and other ground engaging attachments - basically anything other than a properly sized cutter. When you do finally realize how much time you spend mowing you may do what I did - start shopping for a properly sized cutter.
There are a variety of rotary cutters on the market. They basically fall into three categories: Single, Double, and Flex Wing.. The most common is a single blade rotary cutter - a simple unit from 4 to 7 feet wide with a single gear box and blade. If you need a little bigger unit, you are looking at a multiple spindle unit which has two blades. For the widest cutting width (from 12 to 20 feet) you are looking for a flex wing cutter. These units allow the right and left cutting wings to fold up for transport and a dramaticly wide cut when fully extended.
My NY property is 310 acres. About 10% of that is in fields. Thirty acres of mowing is a time consuming, necessary chore. And one that I rarely enjoy. So last year I decided to research flex-wing mowers in the 12' range. There were plenty to choose from but the problem was that few of them are appropriate for compact tractors. That's when I learned about the Woods Equipment BW12 Batwing Mower.
Designed for compact tractors (with lower horsepower requirements) the Woods Batwing BW12 gives you all the function found in the larger Batwings (including a generous 12' cutting width) in a unit that works with tractors as low as 35HP.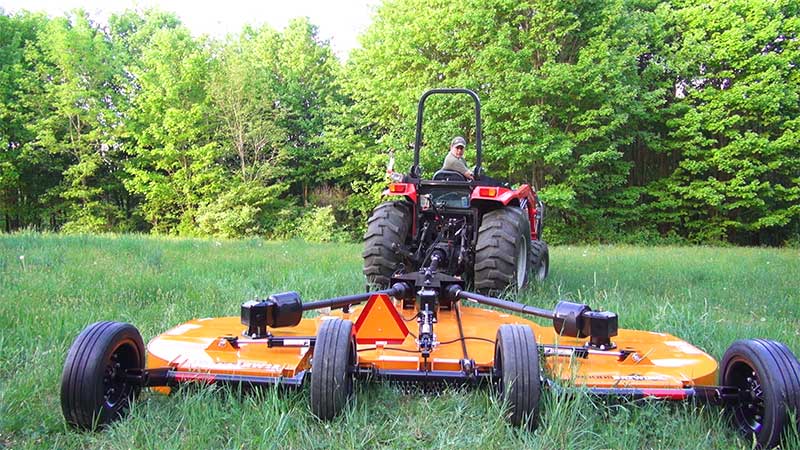 With a 12' cutting width and designed for compact tractors, the Woods BW12 is a remarkable addition to your attachment inventory
BW12 Specifications
| | |
| --- | --- |
| PTO Horsepower | 35 hp minimum |
| Tractor hitch | swivel clevis |
| Cutting width | 12 ft |
| Cutting height | 2" - 12" |
| Cutting capacity | 1.5" |
| Gearbox HP | 160 hp - splitter / 75 hp - center and wing |
| Blade tip speed | 14,300 fpm center / 14,900 fpm wing |
| Deck thickness | 12 gauge, high-strength steel |
| Side frame thickness | 7 gauge |
| Deck side depth | 11" |
| Weight (tongue / total) | 750 lbs / 2450 lbs |
| Blade dimensions | .5" x 4" |
| Blade overlap | 6" |
| Flex wing | 90° up, 22° down |
| Tires | laminated, used aircraft, foam-filled aircraft |
| Suspension | spring on center section |
| PTO driveline | Main - Cat 4 / Wing - Cat 3 |
| Cutting area shielding | standard chain shielding |
| Warranty | cutter - 1 year / gearbox - 6 year limited |
Features
Main driveline: Cat 4
Tractor PTO HP: 35 hp minimum
Cuts brush up to 1.5-inches in diameter
Side frame depth of 11-inches
Lighter tongue weight ideal for use on lower horsepower compact and utility tractors
Fully baffled deck for even distribution and a finer shred
Standard integrated chain shielding
Exclusive quick-change pins enable speedy blade changes in the field
Hookup
Connecting the BW12 was a simple endeavor, and far easier than my 6-foot rotary cutter which connects to the 3Pt. The BW12 simply connects to your tractor's drawbar. The only additional connection is the drive shaft to your PTO and hydraulics ( BW12 requires two hydraulic remotes, there is an adapter if you only have one). Once the unit is pinned to your drawbar, and your PTO and hydraulics are connected - you are ready to go. It took me less than 90 seconds to connect mine.
Using the BW12
From the seat you have complete control over the unit. You can raise and lower the cutting height, lift the wings, and enable the blades using your PTO. I kept my RPM's right at 2k the entire time and that was more than adequate. The unit pulled effortlessly - even on hills - thanks to the four tires and manageable weight..
Results
I have used my BW12 three times over 2 separate fields. One was strictly hay and the other was a food plot that contained areas of small brush. Besides the convenience and speed afforded by the 12' cutting width the unit did a remarkable job with a consistent and uniformed cut. The ability to control the height of my mower was a simple task, and having the additional wings allowed me to cut right up to my field edges. This was always a problem since overhanging branches would prevent me from getting in tight with my 6' mower. I even hit a couple of big rocks, and when I did the unit handled it remarkably well with no damage due to slip clutches and the blade design.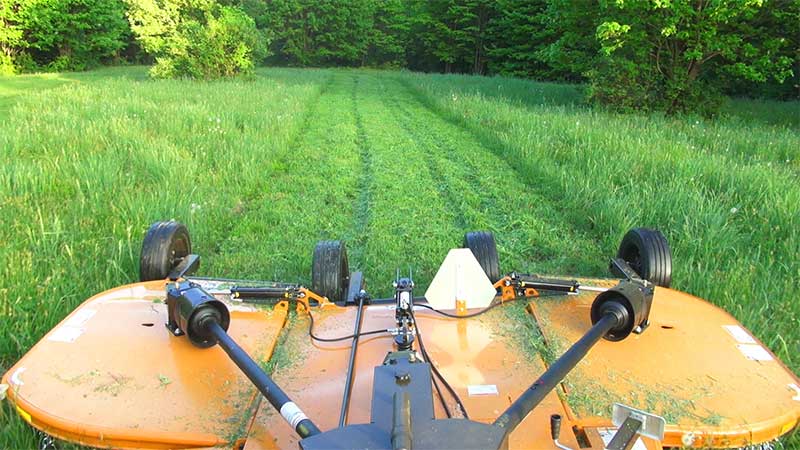 The Woods Batwing BW12 performed remarkably well in all aspects, but it was the uniform and clean cut that stood out the most. Better than I expected.
Conclusion
Overall, I found the Woods BW12 Batwing to be an absolute joy to connect and operate. The BW12 is both convenient and simple to use. Like all my Woods attachments, the design and materials are top shelf and heavy duty. Most importantly, my 55HP tractor (48PTO) had more than enough power to operate the unit.
I did not find a single flaw with the Woods Batwing BW12. Despite high expectations going into the review, it actually performed better than I anticipated. Woods really knows how to design and manufacturer attachments and one look at this unit confirms that. I would highly recommend the Woods BW12 Batwing to anyone looking for a Flex Wing, or large width rotary cutter. Trust me, you will love it like I did. Please see my video review (below) for our complete results and an in-depth demonstration.
Video Review of the Woods BW12 Batwing