Cementum Annuli Results courtesy of DeerAge.com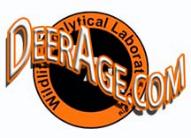 Discuss This Feature
Total Number of People Guessing: 1233

Number of People who guessed him correctly: 14

Percentage Exactly Correct: 1%

Percentage Correct (+/-) 1 Year: 4.3%

Total Number of People Guessing: 1233

Number of People who guessed him correctly: 263

Percentage Exactly Correct: 21%

Percentage Correct (+/-) 1 Year: 79%
Conclusion - Most people did very well guessing the age of Buck 2 but completely blew it on Buck 1.
Buck 1 was an old deer and past his prime for the Northeast (as far as antler growth). He was still very healthy and could have survived another season or two. Incidentally, prior to this past season this buck was last seen in January 09 and his antlers were far more massive but only a 6 point. In fact he was a 6 pt for several years until last season. He grew into an 8 point in 2010 (at 7.5) but lost a lot of mass in one year.

Buck 2 was shot 2-3 years before his prime. His body was smaller than buck 1 and his antlers lacked mass. He had the characteristics of a 3.5 year old deer and that is evidenced by the large percentage of hunters who guessed him within a year of his actual age. He would have been a great buck had he made it another two years.
Winners
6 people out of 1233 (.5%) guessed both Buck1 and Buck2 Correctly. The First Three winners drew a DeerAge.com Aging Kit based on our weighted drawing.
Seamus Minogue
Scott McDowell
Steven Rupert
Gene W
Brian Yoder
Paul Natoli