IMPORTANT - these results are based on our experiences with commercial seed blends. A bad or good result does not mean the blend will have similar results on your property. There are many variables when planting food plots such as moisture, soil condition, planting techniques, invasive weeds and insects. We are only rating our results based on the conditions we experienced on this Northern New York property. Your experiences will surely vary. Full disclosure - we have no seed blend sponsors. All seed blends were bought over the counter and paid for by us. We had no contact, advice, or communication with any seed blend provider.
About our Annual Food Plot Review
History
We have been managing hunting lands since 1992 when we brought you the Bowsite Food Plot. In 2010 we bought a 310 acre farm on the southwest edge of New York's Adirondack Mountains. Our goal was to demonstrate to the average hunter with sub-par lands how they can improve nourishment, attract and hold whitetail deer, and transform even the worst properties into the local hot-spot. Unlike the celebrities that hunt the best farms, in the best states, we decided to show you how land management can transform even a "crappy" parcel of land. That was, and still is the mission of Bowsite's DeerBuilder.com website.
Seed Choices
To ensure a fair test, we purchased commercial seeds off the shelf from Cabelas, Bass Pro Shops, and Gander Mountain for all of our plots. Only the Eagle Seeds were purchased from a dealer since they are not sold commercially. We followed all directions and soil test recommendations and brought this feature to you with fairness to the manufacturers, accuracy and honesty.
Plot Locations
We have been adding, expanding, and altering plot locations for three years. All fields except food plot 6 existed at the time that we purchased the property. In 2014 we are adding another 5 acres by clearing two successional timber areas.
Map of the DeerBuilder Property with Food Plot Locations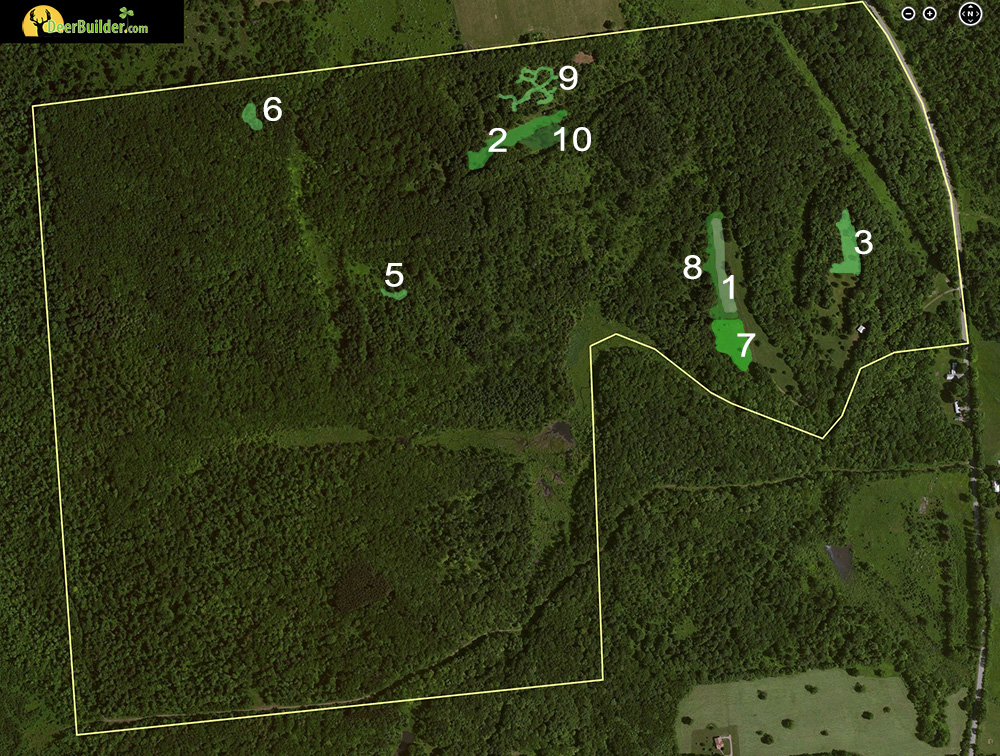 Planting Conditions in 2013
This area of New York is east of Lake Ontario and is part of the Lake Effect moisture band. It has never seen a drought. Average rainfall totals nearly 90" of rain and up to 240" of snow. For 2013 we had great growing conditions in the Spring, with good moisture followed by sunny drying periods. The summer was very wet, lots of rain and standing water. This was advantageous for our spring planted plots but it was very difficult to plant our fall crops. We eventually got them planted and most seemed to flourish.
Soil Tests and Amendments
We are very careful to test our soil in each plot with some larger fields getting multiple soil tests per year. Our soil is a rich, sandy dark loam with good drainage in our higher locations.
Equipment Used
We utilized all of our own equipment for these tests, nobody other than me, and my 15 year old son Matt, installed these food plots. We do have some great equipment including a new 55 hp diesel tractor, attachments by Woods Equipment, and new this year is Cabelas Precision Seeder by Woods.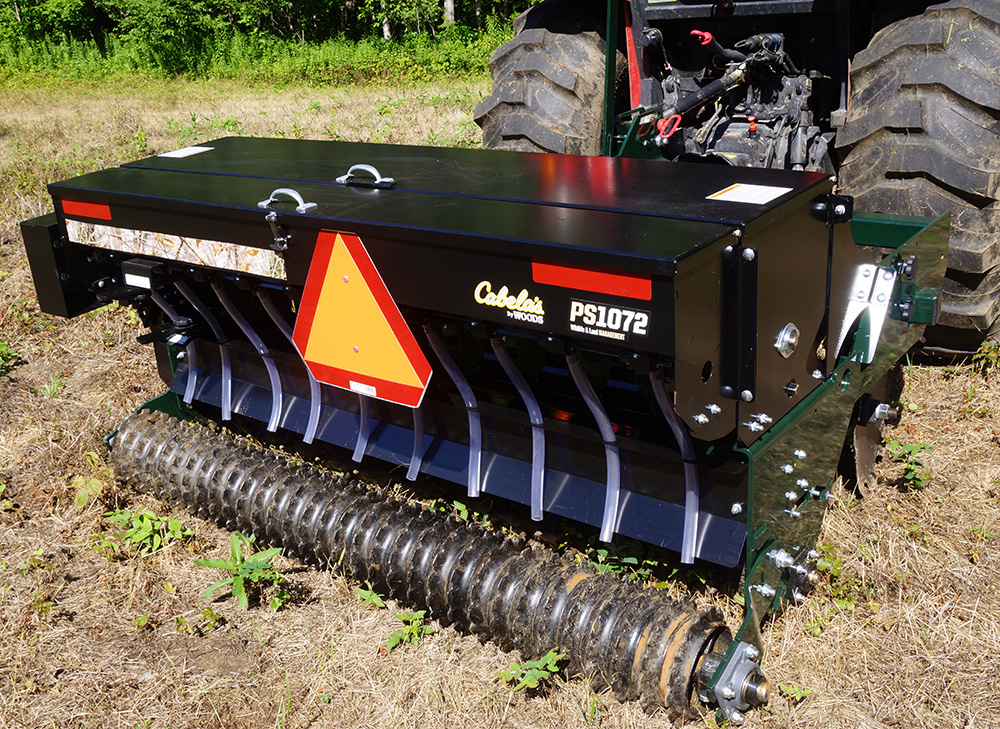 Plot 3 was installed using the New Cabelas Precision Seeder by Woods - model PS1072. Watch the Video Here.
Trail Camera Survey
We had 32 Moultrie cameras in use from June until January. We diligently maintained batteries and SD Card collections and finished out the season with 20,162 individual photos of deer. These were sorted and maintained for establishing accurate deer utilization trends in each plot.
We used 32 Moultrie Cameras, mostly M100 and P150 trail cams. We had a total of 20,162 individual photos of deer in 2013.
Hunting Season
We spent 25 total man-days hunting this property. We identified 4 mature bucks. Our #1 has been on the property for three years and he was taken by my 15 year old son Matt. Our #2 was killed a mile down the road during rifle season. Our #3 vanished in October and never returned. Our #4 survived and was photographed several times in the post season.

We hope you enjoy our 2013 Review. We will also be posting a scientific study of buck movements by food plot and season date in Spring 2014.