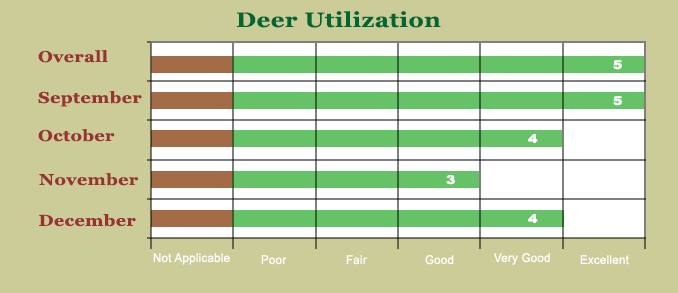 Utilization based on game camera survey on this crop choice + evidence of use
Growth Results
I left this plot unfenced as a test to see if the growth could outpace the deer. The test proved that theory as the plot grew magnificently despite continuous usage. It even set beans in large numbers.
Activity Results
Activity was far better than last year. Allowing the deer in there as it was growing proved to be the right decision. The deer never wiped it out. Utilization was heaviest until mid-September and then picked up again after the snows started.
Comments
This plot was fenced the previous year but for 2016 I wanted to let the deer at it to see how well it would do. Results were amazing. I had deer that never left this plot. I would drive by them on the quad and they just stood there watching me. If I plant this again I will leave it unfenced.
---
September Photo (Macro)
September Photo (Micro)